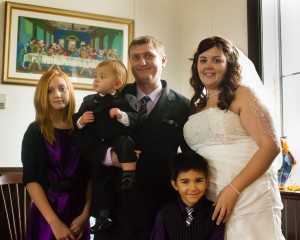 Weddings are wonderful opportunities to celebrate God's gifts of life and love. This information will give you an idea of how our churches can help to make your wedding day meaningful and memorable.The United Church celebrates the marriage of:
all people who believe in Christ

previously divorced individuals

couples of different religions (Christians marrying those of other faith backgrounds)
We believe God intends marriage relationships to be faithful, responsible, just, and sustaining.  Entering a marriage requires preparation and nurture!  For this to be accomplished, a couple must be willing to meet with the minister on three separate occasions.
All weddings performed in Warren – Meadow Lea Pastoral Charge are considered to be services of worship.  No civil weddings will be performed by the minister. Couples who are seeking a civil service should contact a Justice of the Peace, or a Commissioner of Marriages.
Plan ahead.  Book your wedding date, time, and location with the minister six months ahead of time if possible. Church events are often scheduled months in advance; and the minister's calendar is the same.
All couples will require a valid marriage license for the service to be performed. Your marriage license should be given to the minister two weeks before the wedding date, so that church registers and documents can be completed correctly.
For more information, contact the church office or the minister.